Shows and Events
---
Sunday, May 30, 2021 - Sunday, June 27, 2021, 1:00 pm - 3:00 pm


Open Sundays through June or by Appointment
About Mare Island Art Studios
---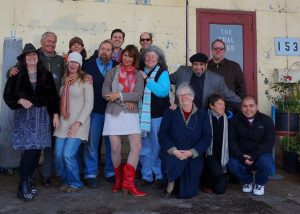 Coal Shed Studios was founded in 1999 by artist Tim Rose in an  8,000 square foot historic building, originally used to store coal on the Mare Island Naval Shipyard.
The Studio became a corporation, Coal Shed Art Studios, LLC in 2017.  We were  uprooted in 2018 to make way for renovation of the coal sheds, but were  happily able to relocate to a slightly larger warehouse a couple blocks away. The new building provides work and gallery space for 19 artists (and the occasional critter). The eclectic group includes painters, woodworkers, metalworkers, printmakers, photographers, videographers, sculptors, textile artists and more. We changed our name to Mare Island Art Gallery to avoid confusion with our new neighbor, Coal Shed Brewery
Solo and group exhibitions are held in the Tim Rose Gallery. We participate in and host a variety of art-related events such as Vallejo Open Studios, Guest artist solo shows, poetry readings and figure drawing sessions.
The gallery is open by appointment and during shows. Browse the web site and our calendar for more information. We would love to have you visit us!
Best Regards,
Mare Island Art Studios Artists
---
We moved up the river to 110 Pintado street in September 2018! Read about it here.