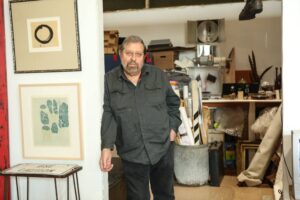 Most of Carl's early training was informed by abstract expressionism/s approach to work, but not necessarily its techniques. Working with form and idea provided the basis needed to proceed. Content was something that developed within the process.
His first step to evaluate a work of art, his own or someone else's, is to isolate it as an object, and then to work with the interplay of forms and ideas. If the object is well executed, the whole will hold and support a content. On viewing an object it seems only courteous to work with it to this point. Radiance is when a viewer says Yes to a work of art.
As the maker of an art object, Carl strives to master the various elements that go into making it: an object that stands alone while displaying the results of his engagement with it. He has a chance of controlling all the elements except one, the reading of it. In the aesthetic complex, the viewer that reads the object made by the artist is as much the maker as the artist, at least where understanding and pleasure concerned.
Carl's engagement with the process may start with color, a new tool, an idea, or a bit of verbiage. He can also experience without feeling that he violated some basic integrity. They have also shown him that content is a product of viewing and a very slippery one at that.
BFA – Michigan State University
MFA – Michigan State University
Studied with:
Richard Hass, Charles Pollock, Angel Ippolito
Former Representatives:
RAZOR GALLERY, N.Y.C.
PETER ROSE GALLERY, N.Y.C.
GOODS GALLERY, Port Washington, N.Y.
Present Representative:
GAUL SEARSON LTD, S.F.
WORK IN THE COLLECTIONS OF:
Pepsico Inc., Purchase, NY
International Creative Management, N.Y.C.
Bellevue Hospital, N.Y.C
Chubb & Company, N.Y.C.
Metropolitan Life Insurance Company, N.Y.C.
Brown & Forman Distilleries, Louisville, KY
NY State Facilities, Health and Hospitals, N.Y.C.
The Knoll Group, N.Y.C.
Kaiser Permanente, Sacramento, CA
Contact Carl Theodorski:
707.552.2293

www.carltheodorski.com