Date/Time
Date(s) - Saturday, December 20, 2014 - Sunday, December 21, 2014
10:00 am - 5:00 pm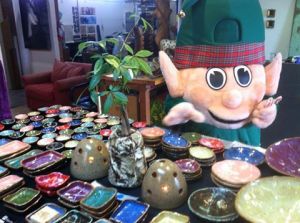 Coal Sheds Holiday Bazaar
Saturday and Sunday, Dec 20 & 21
If you missed Elfie last weekend at the Coal Shed don't despair. Elfie may be
gone, but he left plenty of artist-made gifts at the Coal Shed. Here's another
chance to get some handmade gifts! The Holiday Bazaar is being held over for one
last weekend. Come enjoy a cup of hot chocolate, get some great gifts and
support local artists.
Saturday and Sunday
10:00am – 5:00pm
Coal Shed Studios
153 Waterfront Ave
Mare Island, Ca 94590