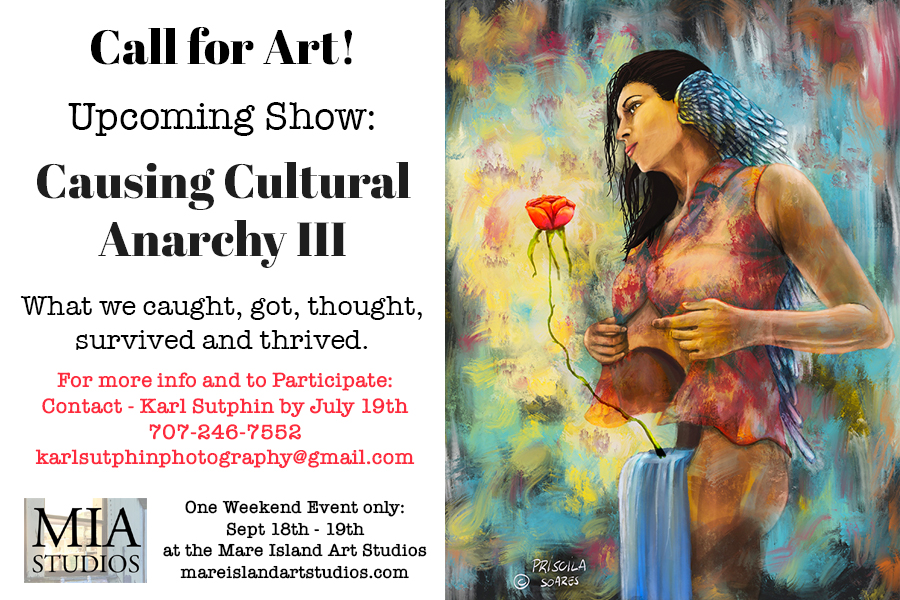 Date/Time
Date(s) - Saturday, September 18, 2021 - Sunday, September 19, 2021
5:00 am - 4:00 pm
Location
Mare Island Art Studios (formerly Coal Shed Studios)
CALL FOR ART!
What we caught, got, thought, survived and thrived.
We want to warmly welcome you to join for this year's event in late September.
What do you dare to share?
What happened to you in the past year plus?
What was it you endured?
Were there great moments to share?
Were there losses?
What did you learn?
What helped you get through it?
What do you celebrate?
What do you mourn?
What are you pushing to change about yourself, your community, country, world?
As artists, we sometimes create art that dares us, scares us, and pushes personal, communal, and cultural boundaries. These daring pieces threaten the norms of our own beliefs, as well as culture in general. We may be afraid to share them due to prior rejection and scorn, personal fear of what sharing something very personal can reveal to others, fear of public reactions, and many other valid reasons.
This art show is for those pieces!
UPFRONT NOTICE! Some works in this show will contain images, words, and ideas that some may find objectionable. (It is kind of the intent of it.)
SHOW DETAILS
You are encouraged to share art that is political, satirical, objectionable, daring, establishment, personal sexuality and gender defining and challenging, anti-patriarchal, feminist, outside of definition, or works that have capabilities of challenging your, and maybe the viewers', areas of comfort and taste. These pieces may have large social messages, or maybe a deeply personal quiet statement, or anything in between. It can be almost any media including deconstructions, constructions, nudes, erotic, abstracts, allusions to narratives that convey something about you, something abstract, and/or something graphic. Please contact Karl if you have any questions.
This is probably the only show of its type in this area and will be the most daringly expressive exhibit in recent times around here. It encourages us to experiment and break out of our usual themes. It is exciting to push ourselves in themes, media, and messages beyond our usual art. While it may seem we are looking for over-the-top art, many times the subtle pieces are the most profound and are very welcome. If you have an existing piece that works well in this theme and fits the concept of the show, please submit it. Art can be 2d, 3d, performance art, projected, participatory, or whatever inspires you.
This is open to artists in and outside of MIAS, so please forward this request to anyone you think would want to share their art and have them contact Karl via email () to submit a representative piece of their work for consideration.
How to Participate:
Fees – if your art is accepted, please pay $20 to Karl, preferably cash or PayPal. This fee helps cover the cost of postcards, the ABC alcohol permit (Yes, we will be able to serve beer and wine at this event this year!).
* Number of submissions – up to 5, guarantee of at least 1 getting in if accepted, but probably more. Your $20 fee covers all the pieces you submit.
* Artist date of notification of intent. – Please contact Karl by 19 JULY to express your intent to be in this show. Please share a representative piece of your work at that time as well.
* Artist Commitment Date – 31JULY – Please email Karl to ensure your name gets on the postcard. You can commit after, but your name will not be on the printed cards. All fees must be paid by 31AUG. Selected artists will be notified by 4AUG.
* Art Due Date – Sunday 12 SEPT – 7pm-9pm at the MAIS Gallery – All art must be:
Ready-to hang on the wall, or exhibit with minimal or no set-up
Have instructions if there are special presentation needs.
Podiums will be provided, if needed – (first come, first served).
Please contact Karl if you want to drop off your art earlier or need to make special arrangements.
Show Location: Mare Island Art Studios Gallery
Show Dates- ONE WEEKEND ONLY! September 18-19, 2021
Please bring snacks and drinks.
Opening celebration – 18 SEPT – 5pm – 8pm
Show open 19 SEPT Noon – 4pm. (During the Mare Island Wet Mile event)
Show take down and art pick up 4pm 20 SEPT
COVID-19 NOTE: We will follow all current CDC and CA State recommendations and requirements to ensure the safety of our viewers, artists, and humanity that share this time with us.