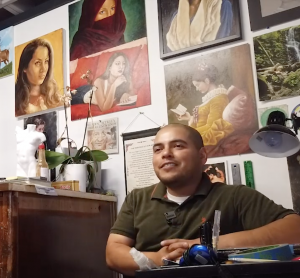 Jose Martinez is a resident artist with the Mare Island Art Studios (formerly known as the Coal Shed Studios).  He is a trusted advocate for youth and works at Aldea Children & Family Services in Napa, California.  He has a BA in Studio Painting and Art History from San Francisco State University.
Jose Martinez uses oil on canvases and panels to portray average, everyday people—often those who in one way or another have had an impact on his life.
Jose's desire is to capture the beauty and intricate nature of the human experience, be that through painting, drawing, or photography. Through his use of light, shadow, and hue, he reveals a story, highlights an emotion, or simply captures a moment suspended in time.
Jose is also dedicated to helping youth express themselves by facilitating art workshops. He believes that youth can find a positive outlet for expression through the various forms of art. Creativity sparks character growth, instills confidence, and engages developing minds on a journey of self-discovery in a fun environment. Jose embraces art's power to heal. Not only does he think that art offers an avenue for communication and self-reflection, it also allows us to reinvent ourselves. And youth can take that opportunity to express their individuality in a way that reflects to them their true power and potential.
Jose Martinez
Instagram: @jmartinezart
Facebook: @jmartinezart